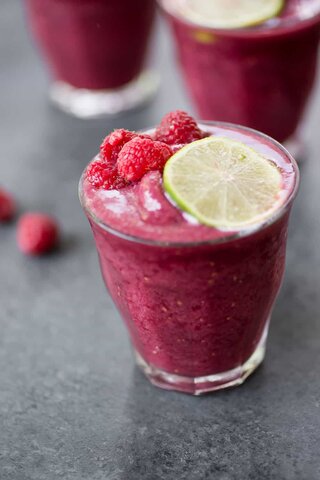 Actual Size: 1/2 Gallons Mix
Monitors: No Needed
Outlets: No Needed
Age Group: 21+
Description
Introducing our refreshing Frozen Sangria Margarita - the perfect blend of two classic cocktails, infused with a delightful twist. Crafted with care, this frozen concoction combines the fruity flavors of sangria with the zesty kick of a margarita, resulting in a truly unique and delicious beverage.
Our Frozen Sangria Margarita starts with a base of premium tequila, expertly mixed with a medley of fresh fruits such as juicy oranges, tangy lemons, and succulent berries. These vibrant flavors are then harmoniously blended with a splash of red wine, adding a sophisticated depth to the drink. To enhance the experience, we add a touch of sweetness with a hint of agave nectar, perfectly balancing the tartness of the fruits.
The result? A visually stunning, vibrant red cocktail that is as pleasing to the eye as it is to the palate. Served in a chilled glass, our Frozen Sangria Margarita is the perfect companion for any occasion - whether you're lounging by the pool, hosting a backyard barbecue, or simply unwinding after a long day.With its refreshing taste, delightful aroma, and visually appealing presentation, our Frozen Sangria Margarita is sure to be a hit at your next gathering. So, why wait? Treat yourself and your guests to the ultimate fusion of sangria and margarita flavors with our Frozen Sangria Margarita. Cheers to good times and unforgettable moments!
Margarita Machine Recipe
1 bottle (½ gal) – Margarita Man® Sangria concentrate
2.0 gal – water
3.75 L – Red Wine (5 – 750 mL bottles)
½ L – Brandy
combine all ingredients in a 5-gallon mixing container, stir or shake vigorously, and carefully pour into a margarita or slush machine
Makes 54 8-ounce drinks with alcohol mixed in
---
Blender Recipe
4 oz – Margarita Man® Sangria concentrate
4 cups – Ice
6 oz – Red Wine
1 oz – Brandy
combine all ingredients in a blender and frappé!
Makes four (4) 8-ounce drinks with alcohol mixed in
This recipe is for 3 gallon, if you order the 6 gallons double the alcohol and water