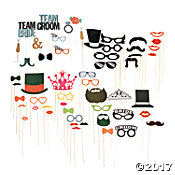 Mega Wedding Photo Stick Prop Assortment




$0.00

12 hours rental

Please call to reserve this item.

It's team groom vs. team bride! These wedding photo booth props are the perfect way to add some silliness to your wedding day celebration! Hand them out to your wedding party and take your wedding photo booth by storm!