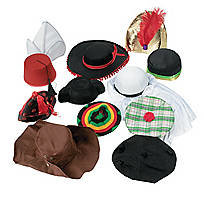 12 Hats Around the World Assortment




$0.00

12 hours rental

Please call to reserve this item.

Excellent hats for kids and adults, stock your dress-up trunk with a variety of fun styles! Great for play props and costume accessories, represent the different cultures in our world with these hats. Prentend to be a French artist, a cowboy, and more! Sizes vary. Assortment may vary.